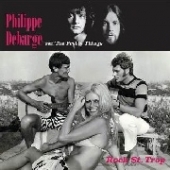 Pretty Things With Debarge Philippe
Rock St. Trop
Label: Madfish
Genre: 60s / 70s Rock / Pop / Progressive / Kraut
Here's the restored and repackaged 2017 edition of this
exceptional album, recorded in 1969 and featuring The Pretty
Things backing French playboy-wanna-be-rockstar Philippe
Débarge. Though this material remained shelved 'til 2009, it's
an amazing psychedelic work, arguably on par with 'SF Sorrow'.
If you missed out on this gem the first time, don't let it
happen again!