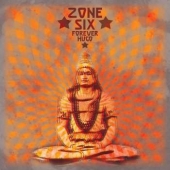 Zone Six
Forever Hugo
Label: Deep Distance
Genre: Post Rock / Avant Rock
Availability
LP €17.99

Dispatched within 5-10 working days
A hectic 2017 schedule so far for Deep Distance continues with this mighty live album from German Psych / Kraut maestros' ZONE SIX. A side project to Electric Moon and Sula Bassana, Zone Six's forays into vinyl releases are few and far between- all fly out and this is sure to follow suit.
This live album was recorded in the "Graf Hugo" Feldkirch, Austria. Which, according to the band is one of the "craziest venues around and currently in danger of closure under threat of replacement by a car park. It's incredibly old and atmospheric and a wonderful place to perform; and with the Graf Hugo crew fighting it's closure 'til the end, the name for the record became obvious 'Forever Hugo!' Also, the concerts there always became total freakouts; a cellar full of crazed, sweaty people had us freaking out on stage, with them doing likewise out front! It's a special place with a loaded atmosphere, which we feel you can hear within these tunes".
Now in it's 20th year, Zone Six, (formed initially by Dave Schmidt), it might be argued are "even wilder live than in their childhood" according to Dave. The line up is constantly evolving, and the current one are -as the live lp ably proves- absolute masters of the 'improvised acid freakouts' they so adore. If they had to throw out a description or 'name' to their sound, the band themselves are happiest with "improvised trance rock!"
The band currently consist of:
Rainer Neeff on guitar (The Pancakes, Krautzone and Ex-Embryo!)
Sula Bassana on drums and keys (Electric Moon, Krautzone, Ex-Liquid Visions)
Komet Lulu on bass (Electric Moon, Krautzone)
A wonderful album released on gorgeous duo-coloured wax in a one time pressing of 500. With another killer Lulu Artwork sleeve. Expected to sell out super quick….