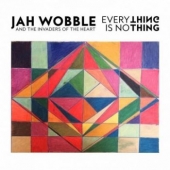 Wobble Jah And The Invaders Of The Heart
Everything Is Nothing
Label: Jah Wobble Records
Genre: Freestyle / Nu Jazz / Funk / Afro
Availability
CD €16.99

Dispatched within 5-10 working days
The sonic universe of Jah Wobble continues to expand with the release of Everything Is Nothing. The album opens with the sublime instrumental Cosmic Blueprint and through the next 9 songs Jah Wobble's Invaders Of The Heart take the listener through an inspiring and serenely confident or cohesive journey.
The Invaders Of The Heart 'firm' comprises of Marc Layton-Bennett on drums, George King on Keys and Martin Chung on guitar. Further contributions come from Aurora providing vocals (Cosmic Love), Sean Corby on trumpet and Doxus who plays sax. Everything Is Nothing also gave Jah Wobble the chance to put his bass to Tony Allen's drums, an artist he had wanted to work with for years. Finally, following Youth's suggestion, the legendary Nick Turner (Hawkwind) completes the highly accomplished line up.
'Everything Is Nothing' is co-produced by legendary producer Youth (Killing Joke) who exclaims 'this is one of the most favourite sessions I've ever done and a great honour to work with this unique and influential artist' Jah Wobble, a talented painter, also created the album's front cover, explaining 'I often paint strange geometrical shapes. It sort of co relates to my bass playing.'
Ever since he emerged with PiL in 1978, Jah Wobble has carved a unique and very charismatic niche, drawing on musical styles such as dub, jazz and world music. Having already created one of the most remarkable and idiosyncratic discographies of any musician in Britain during the last 30 years, this creatively adventurous innovator has with Everything Is Nothing made an original and audacious aural masterpiece.