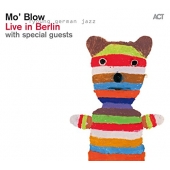 Mo Blow
Live In Berlin
Label: Act
Genre: Jazz / Avant Garde
Availability
CD Digi / Cardboard €18.49

Out of Stock
"The best thing I've ever heard! You've just gotta love their energy, the way they enjoy their music. Plus their team spirit, ability, playfulness...and their cojones. Thanks guys, just keep on doing what you do - live and on CD!"

Mo' Blow receives this kind of praise from ecstatic fans from all over the world. Their brand of jazz-funk has even managed to locate the defrost button (who knew there was one?) of one of the most influential broadsheet newspaper culture supplements, that of the Munich-based Süddeutsche Zeitung, who wrote: "Party! These lads don't just get you going with conventional grooves, they grab you. More power to them!"

The four lads of Mo' Blow have been on their "for those about to Funk" mission for a good decade now. They released their ACT Debut album - with that name - in 2011, and since then they have done well over a hundred gigs, and have travelled to over 20 countries. They have covered the terrain you'd expect, the clubs of Germany, Austria and Switzerland, they've stretched out into the Baltic countries. But they've also taken in Ukraine and Russia and then gone onwards to Malaysia and China. One appearance at the Jarasum Jazz Festival in Korea, with an audience of several thousands going wild stays in saxophonist Felix Falk's mind as something special: "What an amazing atmosphere. The fans went completely mad! Our Korea trip is right up there in Mo' Blow's best gigs ever." This is an exceptional band which proves the point that instrumental jazz-funk really can completely energise a crowd and really get it going.