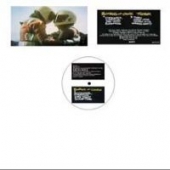 Boards Of Canada
Twoism - Vinyl Reissue
Label: Warp
Genre: Electronica / Ambient / Experimental
Availability
LP €19.99

Dispatched within 5-10 working days
'Twoism' features the same exquisitely spooky, textured emotronica that fans will want to hear, all at as high a level as the brilliant 'Music Has The Right To Children' to boot." - Allmusic
Originally self-released on cassette and vinyl by Boards Of Canada in 1995 through their Music70 record label, it was later reissued by Warp Records on vinyl and CD in 2002.
Back by popular demand, 2013's reissue on Warp Records will be released on 140g black vinyl pressed from the original metalwork.
Package includes green and yellow sticker designed by The Designers Republic.