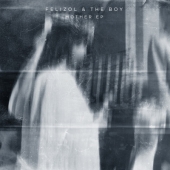 Felizol & The Boy
Mother Ep
Label: Ntrop
Genre: Electronica / Ambient / Experimental
Felizol & The Boy is Greek electronic duo, Yiannis Veslemes & Alexandros Voulgaris – producer and vocalist, respectively – hailing from Athens. After making their debut as a double act in 2010 with 'O.H.I.O' on NTROP Recordings, they have worked independently in the intervening years; The Boy appearing alongside Mr. Statik on BPitch Control's 'Werkschau' compilation in 2011, and Felizol releasing his solo EP, 'Our Team Never Won' on NTROP in 2012. The pair have now reunited with a rather mysterious four-tracker.
Opener, 'Gena Rowlands', is laden with a gentle electronic kick and recurring dubbed vocals in which The Boy claims he "Always wanted to be Gena Rowlands". Whether the overtones are of amusing sarcasm or perturbing eccentricity is unclear – is it merely a tongue-in-cheek remark, or is the American actress genuinely an iconic figure to The Boy, or perhaps Felizol? Nonetheless, their first reference to pop culture is a solid start to the EP.
The second A-sider, 'Maragrita Karapanou', is a hypnotising but unsettling track with a plodding beat, restrained even further by keys that have the envelope and timing characteristics of a baby's pull-string musical toy. Add into this a handful of random whistle blows straight from a 90s dance floor and the result is a very amusing yet slightly scary electronic lullaby. A child could probably drift off to it but their nightmares may well be harrowing!
The second half of the EP kicks off with title track, 'Mother', and a remix by fellow Greek electronic musician, Lee Burton. The vocal and synth thrust are the highlights of the record; it breaks into soulfulness for the first time on the EP and brings a little fun to the party, in stark contrast to the introspective strangeness that precedes it. It's Burton's remix that I can envisage revisiting in the future – the transcending synthesiser and eerie lyrics are well complimented with an upbeat groove.
It is certainly a unique release, 'Mother'. Fixated on topics such as God, celebrity and Nobel Prize winners, Felizol & The Boy have stars in their eyes, using profound words throughout, whilke mocking 20th century subcultures. Their music blends many aspects of modern dance music, and 'Mother' is the most club friendly track on an EP which is deeply rooted in the Southern European underground.