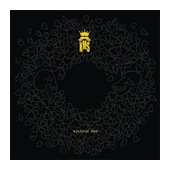 King Midas Sound
Without You (Hyperdub)
Electronica / Ambient / Experimental
LP x2 €16.99
Sorry, currently out of stock.
King Midas Sound released their enthralling debut album 'Waiting For You' in the fading light of November 2009. A hypermodern nocturnal take on Lovers Rock, featuring delicate but sour electronic instrumentals topped with Roger Robinson's bitter-sweet falsetto and Kiki Hitomi's fragile voice, it highlighted a hitherto less-exposed side not just of producer Kevin Martin's musical evolution, but that Hyperdub's too.

'Waiting For You' returns now as 'Without You', transformed by a raft of carefully chosen collaborators. As a curator, Kevin Martin has a highly respected track record. He was behind the groundbreaking 'Macro Dub Infection', 'Jazz Satellites' and 'Isolationist' compilations in the late 90s, and more recently, selected half of the 'Mysteron Killer Sounds' dancehall set on Soul Jazz. For 'Without You' he has sourced a pool of radical reinterpretations that follow somewhat in the tradition of reggae, in the same way that the original 'Waiting for You' album did.


Here instrumentals are reworked or totally rebuilt by a diverse set of artists from across the musical spectrum, and on other tracks, fresh vocal interpretations totally transform the flesh that adorns the bones of their parent rhythms. The album opens with Kuedo's stumbling, exhausted waltz rework of 'Goodbye Girl', before D Bridge graces the rhythm for 'Blue' with his exquisite gentle falsetto, transforming it into 'Without You', adding layers of soaring chords that sound like a war in heaven.

Flying Lotus' mix of 'Lost' is loosely in a dancehall style, but fed through dizzying echo and crackle, while in stark comparison, Nite Jewel follows with a reinterpretation of 'Lost' as a sorrowful instrumental somewhere between synth funk and the Out Run arcade game soundtrack. Gang Gang Dance let the machine elves loose, turning the doomy 'Earth A Kill Ya' into a goofy but earnest plea. King Midas Sound's own KikiHitomi reinterprets 'Cool Out' as 'Tears', singing in a breathy soft Japanese accent, and Hyperdub artist Cooly G voices 'Lost' as a modern day Lovers Rock singer on 'Spin Me Round'.

Rob Lowe, who is best known for his Lichen's project, sends 'Goodbye Girl' into an uncanny void, with the rich, undulating pulses of modular synthesisers, while Joel Ford (of …And Lopatin) sings in his bright vocal with lyrics that sound like they're about the process of writing the song on 'Say Something'. Hype Williams lose 'Sometime' in bouncing footwork-like drums and loops, burrowing the track in lush blissed out synths, while Kode9 And The Spaceape rework 'Meltdown' as a tender fly-on-the-wall interpretation of a break-up.

Mala from Digital Mystikz invests his version of 'Earth A Kill Ya' with toxic dread and earthy power, whilst Deep Chord's aerial dub of 'Goodbye Girl' spins whispery slithers of vocal around a sub bass and endlessly echoing fxs. Scritti Politti's Green Gartside revoices 'I Man' on 'Come And Behold' making sweetly sung and harmonised threats such as "one day these hands that clothe and feed you will hold a gun". The album ends with a splatter, with Ras G's vicous interpretation of dub on 'Cool Out'.

It's rare that a compilation of new versions of old tracks will coalesce as naturally and solidly as this; 'Without You' sees all the contributors open themselves up and step inside the zone of King Midas Sound. Instead of squeezing the ideas of the originals dry, as is the shortcoming of most remix projects, the coherence of 'Without You' takes the original album clear into a new dimension of sound.
Track Listing
Side A:
Goodbye Girl - Kuedo Rework
Without You - D-Bridge Revoice
Lost - Flying Lotus Rework
Miles And Miles - T++ Rework (Vinyl only)
Side B:
Earth A Kill Ya - Gang Gang Dance Rework
Tears - Kiki Hitomo Revoice
Spin Me Around - Cooly G Revoice
Goodbye Girl - Robert Aiki Aubrey Lowe Rework
Side Cl
Say Somethin' - Joel Ford Revoice
Lost - Nite Jewel
Sumtime - Hype Williams Rework
Come And Behold - Green Gartside Revoice
Side D:
Goodbye Girl - Intrusion Rework (Vinyl Only)
Goodbye Girl - Deep Chord Presents Echospace Rework
Goodbye Girl - King Midas Sound Dub (Vinyl Only)
Cool Out - Ras G And The African Space Program Rework