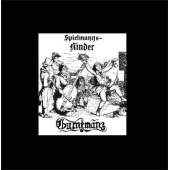 Gurnemanz
Spielmanns-kinder
Label: Missing Vinyl
Genre: 60s / 70s Rock / Pop / Progressive / Kraut
Availability
LP 180gr €20.99

Out of Stock
First ever official exact reissue

Great German folk rock album with female vocals from 1975

Fully authorized

Mostly English lyrics

Expertly remastered by band member John Cremer himself

Limited, deluxe exact reissue on 180g vinyl with printed inner sleeve

500 pieces limited


Gurnemanz, was a German folk rock band, who have recorded and pressed privately two excellent albums during the mid 70s. Their delightful music is somewhere between first Broeselmaschine, Hoelderlin and Ougenweide. All ingredients are there, sitar, flute, lute, lyre, mandolin etc played by master musicians, but above all is this stunning female voice of Manuela Schmitz.
This is their first album, originally pressed privately in 1975, most tracks are sung in English.