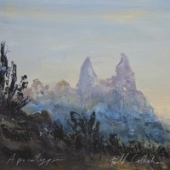 Callahan Bill
Apocalypse
Label: Drag City
Genre: Rock / Pop
Availability
CD Digi / Cardboard €16.49

Out of Stock
Essentially an ensemble recorded live in the studio, Bill Callahan's 'Apocalypse' is the corpus delecti. Something happened here. If tape is like meat, this record is the whole hog - no cuts.
Callahan, riding on the back of his band, corrals them all and guides them single-handedly with love and ferocity.
Bill Callahan is a recording studio guru, a tastefully rampant singer-songwriter, a heartthrob, a visual artist, a statesman for the times and an author. His songs have been featured in films such as 'High Fidelity', 'Dead Man's Shoes', and 'Youth In Revolt'. Artists as diverse as Gil Scott-Heron, Flaming Lips and Cat Power have recorded his songs.