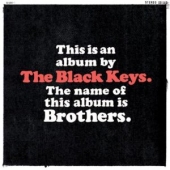 Black Keys
Brothers
Label: V2
Genre: Rock / Pop
Availability
LP x2 €24.99

Out of Stock
THE BLACK KEYS release their sixth full-length album, entitled "BROTHERS", on 17th May on V2 / Cooperative Music… Recorded at Alabama's legendary Muscle Shoals Sound with additional sessions at Auerbach's Easy Eye Sound System in Akron and the Bunker in Brooklyn, the album sees production duties handled by The Black Keys, along with shared duties between the band, Mark Neill, and their old friend Danger Mouse, who lends his skilled hands to a new track. Tchad Blake brings his sonic excellence into the fold to handle mixing duties… Muscle Shoals has produced iconic recordings from The Rolling Stones, Aretha Franklin, and Wilson Pickett, among many others…

<br /><br />Carney admits Brothers is the album they've always wanted to make and taps into their creative force as a duo. "Dan and I grew up a lot as individuals and musicians prior to making this album. Our relationship was tested in many ways but at the end of the day, we're brothers, and I think these songs reflect that." The ghosts of Muscle Shoals inhabit Brothers' 15 tracks. Of the album, Auerbach says, "We like spooky sounds… like Alice Coltrane, where a dark groove is laid down. That's the headspace we tried to get into for this record." The album includes the Danger Mouse-produced song "Tighten Up" and a cover of the Jerry Butler classic "Never Gonna Give You Up."<br /><br />It's been a remarkable couple of years for THE BLACK KEYS… Their last album, 2008's "Attack & Release", was by far their most successful to date, and the year culminated with them playing a sell-out show at Brixton Academy in London… Early 09 saw Black Keys singer/guitarist DAN AUERBACH venture out on his own with a critically-acclaimed solo album, "Keep It Hid", that covered a variety of musical styles from psychedelia and soul via gospel and bluegrass. Late 2009 saw the Keys spread their wings further with their celebrated BLAKROC project, an exhilarating collaboration between themselves and a 
star-studded line-up of influential hip-hop artists that included Mos Def, Q-Tip, RZA, Raekwon, ODB, Pharoahe Monch, Jim Jones, Nicole Wray, NOE and Billy Danze (M.O.P).